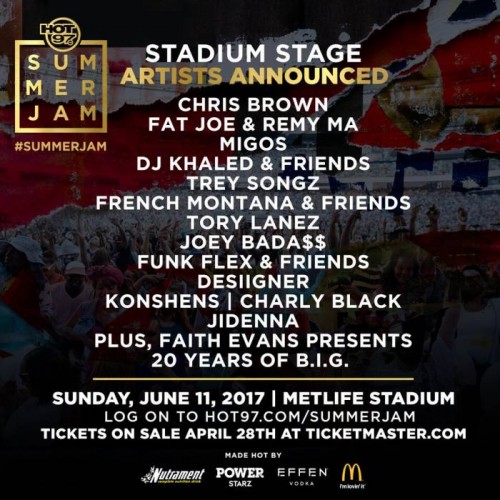 TGIF! We're just two days away from Summer Jam!
It's hard to imagine how Hot 97 continues to outdo itself every year. But they seem to do it with ease. After every June, you ask yourself, "How are they going to top this next year?" By "this," I mean producing an event with dynamic artist line-ups on not just ONE stage, but TWO. And still maintaining a surprise factor that leaves concert goers stunned and amazed. For TT Torrez, the veteran music director and radio personality at Hot, her work seems effortless. In charge booking talent for the Festival Stage, and managing/producing the Stadium Stage, TT has mastered this. And we caught up with her – email – to discuss all things Summer Jam. Read our interview below!
Didn't get your tickets for Summer Jam in time? No worries! HHS1987 will be at MetLife Stadium this Sunday live streaming & posting social media.
Follow: @HipHopSince1987 on Twitter & @MariaMyraine on Instagram!