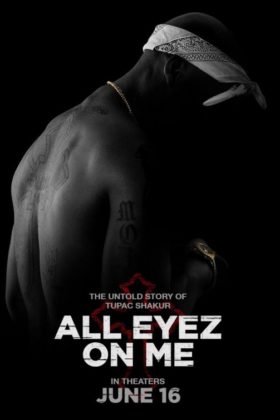 Code Black is gearing up for the upcoming released their Summer film "All Eyez On Me" and we want you to get a chance to see the film for free. HHS1987's Terrell Thomas (Eldorado) has teamed up with Code Black and Allied Moxy for a special ticket giveaway.
"All Eyez On Me":
ALL EYEZ ON ME tells the true and untold story prolific rapper, actor, poet and activist Tupac Shakur. The film follows Shakur from his early days in New York City to his evolution into being one the world's most recognized and influential voices before his untimely death at the age 25. Against all odds, Shakur's raw talent, powerful lyrics and revolutionary mind-set propelled him into becoming a cultural icon whose legacy continues to grow long after his passing.
To enter to win a chance to receive 2 FREE passes to see "All Eyez On Me" must:
Winners will be announced direct message and sent a link to download the tickets. "All Eyez On Me" hits the big screen on June 16th. Stay tuned to HHS1987. Follow @eldorado2452 on Twitter and Instagram for all your music, movie and entertainment news.